Discover more from Low Lift Ask
Our Value Prop: Business Insights and Key Takeaways... of course, all done in a sort of um, like, I want to say, Kafkaesque, Lynchian, Hegelian way.
Guys, I Don't Trust The Government...
Everything in the world is about sex. Except sex. Sex is about Vibes.
Pre-Newsletter Plug: We have a
livestream show tonight
at 9 EDT with some very funny people! Consider viewing, even just for a minute.
I recently finished The Night Manager. Not the book, but the 6-episode miniseries currently streaming on Jeff Bezos' Everything Store. It consists of a bunch of famous British people on "holiday," shooting on location in places like Mallorca and the fucking Matterhorn, and Hugh Laurie playing a villain whose name is Dicky Roper (stylized, in British, Dickeeeyy Ropahh)—all in service of a killer John le Carré adaptation. I would like to say that this is the perfect TV show.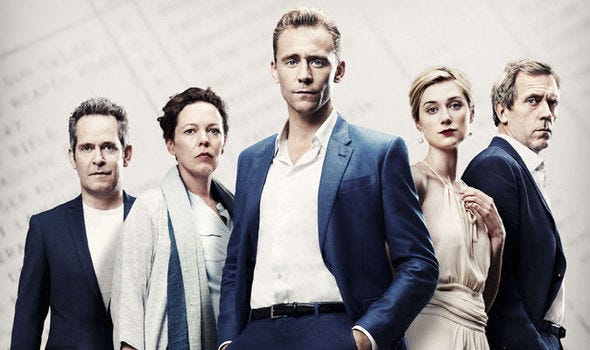 And now comes the dreaded qualifying statement...of course it's not perfect, not in the sense that you're thinking. But it's an uncut, concentrated dose of that heady drug TV is best at providing: Vibes. Vibes abound, all around, in this show. Some immaculate Vibes here:
Tom Hiddleston wearing loose linen shirts and bootcut chinos

The guy from Pirates of the Caribbean going apeshit

Olivia Colman as Beleaguered Government Lackey With A Good Heart

A fictional mobile banking app that requires retina scanning to authorize a wire transfer of $300 million

British characters with great names like "Geoffrey Dromgoole" and "Rex Mayhew"

"International" characters with (great) fake names like "Juan Apostol" and "Freddie Hamid"

That thing where they play the call to prayer to let you know you're in a #MuslimMajorityCountry, baby

Weird fan edit set to Coldplay/Chainsmokers song featuring one (1) of the protagonist's three (3) identities in six (6) episodes of TV
Creeping paranoia and righteous distrust in our governmental institutions
It's that last Vibe that makes John le Carré stories what they are. (For what it's worth, recent adaptations of his work have been, on the whole, incredible.) A British spy grappling with moral quandaries of his profession. Rooting out the mole at the highest levels of MI6. Dead drops under a park bench. The government conspiracy/paranoia/espionage/cat-and-mouse thriller genre owes him a massive debt, and he's still churning out books at 88 years old. A Content Creator never stops!
I've always eaten up shit like this, but never more so than in this Current Moment. American counterparts to le Carré's oeuvre, like the Bourne movies and Michael Clayton. That movie Dark Waters. James Verini's account of The Battle of Mosul. This great podcast about the Iraq War. And The Night Manager, as in le Carré's other works, is of a similar thesis—much like the Tower of Babel, "this shit goes all the way to the top." The Grand Unifying Theory of much of the media I've been consuming lately can ultimately be boiled down to: "Everyone is rotten."
I am finding it oddly comforting to read, watch, and listen about all the ways our institutions fail us during a moment in which our government, very publicly and in many prominent ways, is failing us. Picture this: me, standing by the River Thames (again) with my AirPods in. The shot is from a distance, so I am a tiny figure dwarfed by the looming spectre of Westminster Abbey and 10 Downing Street and Big Ben—a tidy visual metaphor, aided by some choice gloomy lighting.
I am listening to a podcast that details Prime Minister John Major's involvement in selling arms to Iraq during the Iraq-Iran War (I did not know who he was before this, but now I'm absolutely scandalized, throwing my hands up in the air and muttering shit like, "Of course. Of course fucking John Major sold weapons to Saddam. You can't make this stuff up.") A man in a trenchcoat sits down at a bench nearby, and I sit next to him. I pick up the newspaper he has placed between us surreptitiously. I open the newspaper and start reading the classified documents he's hidden inside the pages. He leaves the bench. Now I'm sitting there, my gaping jaw dropped wide open—you can't make this stuff up, man, you just can't. I look across the river at the SIS Building (The River House, if you're nasty). I look at it with an intense glare, something menacing and full of steely resolve, a look that says, "You're all rotten. And I'm going to take you down. There is a mole at the highest levels of British Intelligence." If nothing else, that's definitely a Vibe.
A quick recommendation: the most underrated movie of the last decade is Black Sea. Jude Law, with a thick Scottish accent and a chunky fisherman's sweater, leads a submarine voyage to excavate some buried treasure with a colorful cast of characters he has only just met. The twist? Trust no one.
Ritam's Footnote
The amount of times I have come home to see Nabeel glued to some detective / spy / crime show… too many to count. I enjoyed this little writeup so much because it is some variant of a million conversations we've had over the course of living together, all of which I miss dearly as we spend our time in our respective hometowns.
I also truly enjoy shows of this genre, though not as much as Nabeel, but I'll take this moment to plug a show that I have not shut up about for a full entire year: Patriot. Terrible name, but it's an incredible show. Written with a watchmaker's precision, frequently laugh-out-loud funny, and beautifully acted by an international cast. It's also on the Bezos machine — spin yours up and take a dip into the Patriot waters today!