Discover more from Low Lift Ask
Our Value Prop: Business Insights and Key Takeaways... of course, all done in a sort of um, like, I want to say, Kafkaesque, Lynchian, Hegelian way.
Dergarabedian Chaos Theory
The greatest trick the devil ever pulled was convincing the world he didn't exist
Who is this man?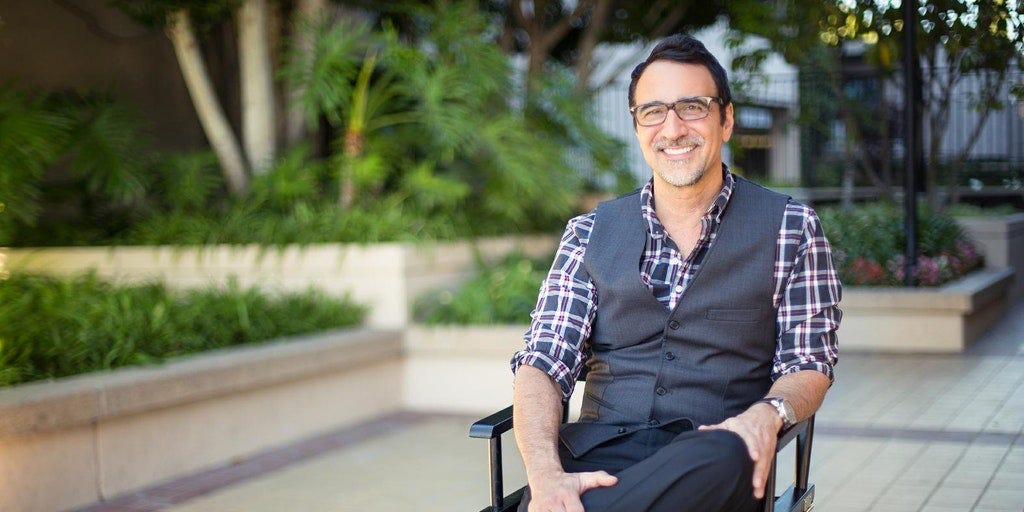 Do you know? Take a guess. Any guess.
Stumped?
If you guessed either "The Most Powerful Man of All Time" or "Paul Dergarabedian"—well, boy, do I have news for you.
You are correct.
***
In my youth, I was unfortunately afflicted with a severe case of Modern Warfare 2-Christopher Nolan-Basketball Shorts Syndrome—and reader, I did NOT take nitrates for chest pain. A devastating side effect was consistently reading the box office roundups on Yahoo! News every Sunday morning.
I did this religiously. I became obsessed with knowing which movie won the box office each weekend. I wanted to know about highest opening day returns, second-week drop-offs, midnight screening ticket sales. It was a disease, brought on by my risky behavior (looking up movies on Wikipedia in my free time and immediately clicking on 'Critical Reception'). And in cataloguing my evidence, I found myself confronted, again and again, by one scholar. There is no man who has loomed larger in my mental cavern for the past 12 or 13 years than he has. No male authority figure more influential in my life, save for Stevie Wonder or the Prophet Muhammad. Yes, it is He. Paul Dergarabedian.
Paul Dergarabedian is the movie industry's standby for quotes about the box office. In pre-pandemic times, I guess, every news outlet would, without fail, publish the same piece every Sunday detailing which movies won the box office that weekend. And every news outlet would, without fail, reach out to this guy to provide an unfathomably inane quote, "analyzing" the results. It is impossible to describe how stupid they are. Here, let's look at some of his bangers:
On Inception:
On Alien vs. Predator:

On Hitch:

On Pirates of the Caribbean: At World's End:

On 8 Mile:

On Knocked Up:

On Christmas Day movies:

On Bridesmaids and The Help:

There are more, of course. A fun game is to Google any movie + "paul dergarabedian" to see what my man had to say at the time. I cannot stress how ubiquitous he is—you will find him, everywhere, no matter what.
Paul is, in all honesty, a bizarre cultural byproduct of a media economy that needs bankable weekly content for ad revenue converging with the rise of franchise blockbuster movie culture. He is the Prince Who Was Promised. His "analysis" is absolutely fascinating—he's effectively convinced an entire industry that he is the sole expert on something for which there is genuinely no need to be an expert. The great paradox of his life is that his insights are legitimately useless, and yet, because of the standard "journalistic" practice of needing a "quote" for a "story," he necessitated his own existence. That is fucking incredible.
Here's a guy who's (probably) pulling in fat stacks for the sole purpose of saying something like, "It turns out men like Matt Damon. But maybe also women, too. Which is why he cleans up at the box office. And Hollywood is starting to take notice…" when The Bourne Ultimatum came out. Actually—what did he say about that movie?

Mmmm. I hadn't thought about that before.
There is more that I'd like to know about Paul Dergarabedian. I wish I could find a childhood photo. Maybe an arrest record from his teenage years—weed possession, perhaps? That'd be cool. Not much is out there about his upbringing, but we do know he went to Cal State Long Beach in the 80s, and the company website claims he is "the movie industry's most recognized and widely quoted authority for media-based information and analysis." But outside of the stray YouTube video in which I can finally hear the rich timbre of his voice, the contours of his life have been left up to my imagination for years.

This article was published almost 13 years ago to the date. Yet, by all accounts, Pauly D roams free. He has not been stopped. He has not been cancelled (yet, I guess). And he is sure as hell still sexually active (source?).
Who is Paul Dergarabedian, really? What does he represent? Is he a genius? Is he God? Could it be that he is the greatest scammer of all time? Is he a modern-day Icarus, and we fools just unaware that his carefully constructed house of cards may soon come crashing down? Is he a Coen Brothers' character come to life? Is he a class traitor?
I ultimately like not knowing anything more about Paul than I already do. Every new quote he gives, every fresh new take he unspools for the masses—these just preserve the enigma even further. This is American mythmaking at its finest. He is what life in this wretched country is all about. Some perfect, beautiful, unknowable thing.
Ritam's Footnote
Nabeel's fascination with Paul Dergarabedian is real, and it's spectacular. In the same vein, there's a lot of talk these days about "The Rise Of The Online Grifter," a label which seems to have been applied to everyone from Jordan Peterson to Eugene Gu, MD. I'd like to posit that these types of people have always existed, people who aren't exactly ruling class capitalist owners but somehow manage to eke out an effortless living regardless, peddling stupid claptrap that seems to fulfill some useless niche.
On a more somber note: Tara Asokan, a childhood friend of mine, unexpectedly passed away this week. I have lots of memories of childhood mischief that involve her, and I'll always remember her as a kind, intelligent, and hilarious friend. The reason I bring this up is that our mutual friends have started a memorial fund that will go towards a cause that Tara cared about, and I thought I'd plug it here. It's a shock to lose anyone at our age, so I'll end on a trite but relevant piece of advice: tell your friends you love them.