Discover more from Low Lift Ask
Our Value Prop: Business Insights and Key Takeaways... of course, all done in a sort of um, like, I want to say, Kafkaesque, Lynchian, Hegelian way.
An Interview With A Reader
Our dear readers... you're under the damb microscope
We've been curious about who exactly reads this newsletter, so we conducted a statistically relevant survey of all our subscribers and picked an interviewee who represented the perfect "average subscriber." For privacy reasons, we've redacted their name.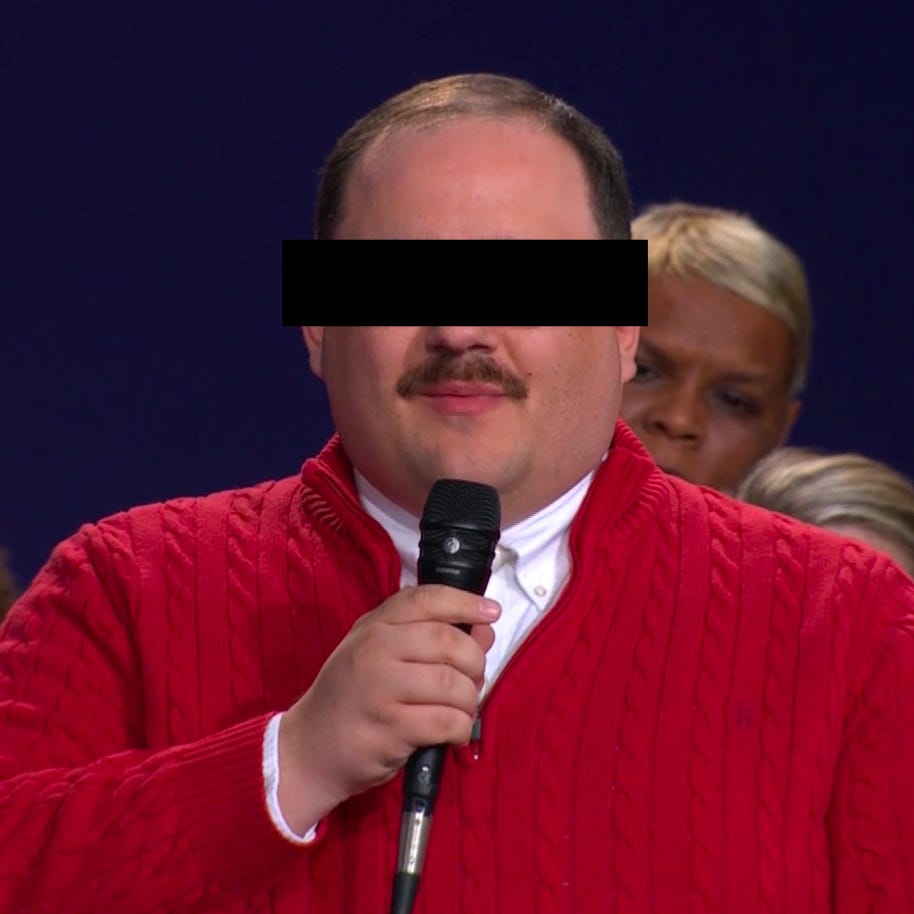 A picture of our interviewee, redacted for privacy.
---
Thanks for speaking with us, [REDACTED].
Of course. I don't have a lot of time, so hopefully this interview will be short.
Sure. Do you have somewhere to go after this?
No, I'm not going anywhere — we're in a global pandemic. But I have plans.
Mind sharing the plans with us?
Let's just say they involve "jelqing." Don't Google it.
Okay — let's just get to the interview then. Whereabouts are you located in these *chuckle* unprecedented times?
I left the city for my parents' place. A lot of people called me a traitor for leaving the city, and I felt kind of bad for a while, but my parents have a pool.
When you say the city, you mean New York City?
No, Raqqa, in Syria. That's where I worked.
You live in Syria? What's your job?
I'm a military guy. I do military stuff. I was like — how do you say it in English — uh, a commander, I guess? It was a tough fight, and we got beat pretty bad a couple years ago, so I peaced out of Raqqa and I've been living at my parents' place in Westchester ever since.
Wait — you fought for-
ISIS. Or ISIL or whatever people call them now. But to be fair, I sort of fell into it. Like I wasn't actively out there looking to join ISIS or anything. I'm not even — like I'm not even Muslim or anything, I'm actually sort of more spiritual than I am religious if that makes sense. Like, I'm open to the possibility of a God, but-
I'm sorry, but how exactly do you just "fall into" working for a fundamentalist militant insurgency?
Well, I was undecided in college for a while, and I sort of just ended up going with communications because I wasn't sure what else to pick, and then one thing just sort of led to another. I actually started as their chief culture officer. I was responsible for all of the covert propaganda.
From ISIS?
Yeah. You know that song "Closer," by The Chainsmokers? Well, you know the part that goes "We ain't ever getting older?" Originally, it was "We ain't ever taking Mosul." I wrote that song.
What do you think of "cancel culture?"
No comment.
Where did you go to college, by the way?
I went to a little school in New Haven, Connecticut. You may have heard of it.
Yale?
No. I went to Cornell.
That's not in New Haven.
Coulda fooled me! I loved Cornell. It was a great place to meet like-minded people.
Like whom?
Not sure. I never met any. But I definitely felt like I could have.
Switching gears here — do you have a family? Are you married?
I'm not married, but I recently started seeing someone new, actually. She has a cool job. She's a sex worker — she finds men in the desert, they give her money, and she gives them a little kissy.
Are you dating Kissin' Kate Barlow?
Who?
What sort of things do you like to do outside of work?
I like puttering. I like ceaseless chatter. I like busying myself about trifles. I certainly enjoy conducting myself accordingly.
What does a typical day look like for you?
I wake up every morning and read The Skint, like it's 2015. I just always want to know about the show where comedians and scientists drink IPAs and talk comedy science. I'll then pop a cassette of The Indian In The Cupboard into the VCR and watch the trailer for Event Horizon. Then it's time for my daily exercise routine. You may have heard of Couch-to-5K, that running plan that gets you to run a 5K. I do something similar — it's called (Couch+1)-to-6K. It's like Couch-to-5K but it's one better. Then, it's time for breakfast. Breakfast normally consists of the nummiest epic bacon little old me can fry up in le cast iron skillet. Le cast iron skillet is the most epic manly sauce XD. If my mommy ever puts it in the dishwasher, I get epically mad at her XD.
Then, it's onto my new gig as a "management consultant" for Academi (formerly Blackwater). I love remote working because I get to be so funny with my Zoom background. Like sometimes I make it the beach and stuff, and one time I made it the conference room from The Office and my boss (Erik Prince) freaked out because he thought it was so funny. His favorite character is Creed because he's so random, and he likes to scuba. Sometimes on the work Slack I send memes like this: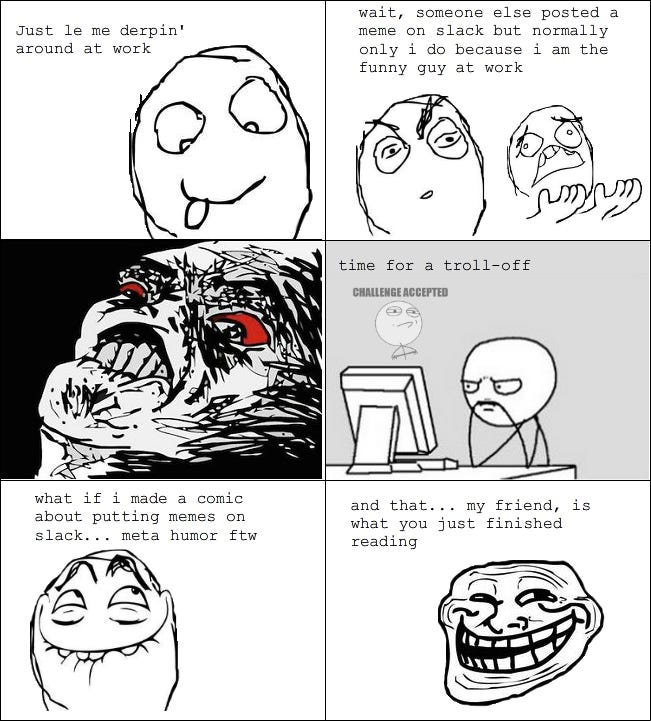 Anyway, after work I like to cool down with a couple of beers, hop on Twitter, and make my thoughts on the Harper's Letter known.
Sounds like a busy day.
You have no idea, dude. Sometimes, I'm so tired at the end of the day. I think it's because I'm an introvert, which is a very interesting fact about me. I am an introvert and I need to recharge my batteries while alone. And more importantly, I need to tell everyone about it.
Thanks for chatting with us.
You guys are Serial, right? The podcast? The one that just partnered with the New York Times?
We're not Serial.
So you're not going to ask me about the murder?
What murder?
I killed traditional media.
What?
I'm a millennial. I killed napkins and diamonds and buying a house.
God, shut up.
I'm going to unsubscribe from your newsletter. You're very rude. Why do you do this, anyway? You can't be making any money off of it.
It's fun.
It sounds stressful. Writing a whole thing a week just for most people to sort of halfheartedly skim.
It's fun for me. And people read this. It's just one of these fun things you do with your friends.
It sounds narcissistic. It sounds like you think you have thoughts in your brain that deserve to be thoughts in someone else's brain, and you basically guilt your friends into signing up for this because they're trying to be supportive, and then you just foist the responsibility of consuming more navel-gazey idiot content onto their already harried schedules.
Have you ever considered the idea that you don't actually have insight or clarity of vision? That you're stumbling around in the dark like the rest of every blind fool, convinced that you have some sort of unique perspective or understanding of How The World Works, but you can really only see a cross-section of everything and lack the ability to see the whole shape? In fact: how dare you write this newsletter. Wasting everyone's time.
I mean… Jesus. I just wanted to do something fun that my friends would like.
Your friends are cool. And they're normal. Did you hear that Charlie Daniels died?
The singer/songwriter guy with that Twitter?
Yeah, the guy who posted "Benghazi Ain't Goin' Away!" every single day on Twitter.
Ah. Well, it's sad that he died, I guess.
Benghazi Ain't Goin' Away!
---
The interview ended rather abruptly there. The Zoom call terminated, my computer self-destructed, and I took a long, cold shower and wept.
Nabeel's Footnote
Pretty wild that 2012 culture can be neatly summarized by Epic Meal Time:
There's something sad about the fact that food content might be the most popular and monetizable genre on YouTube (and Netflix), but these guys completely whiffed on the tone the world would eventually settle on. Instead of 4K video and slow-motion tweezer shots, we all thought "Gay Bacon Strips" was the way to go.